cruise with letters from home!
Join us on our next venture with THE PATRIOT on Princess Cruises in March 2017!
After that....
Sail with AMERICA'S BOMBSHELL DUO on Un-Cruise Adventures in September of 2017!
AND
​UN-Cruise Adventures Alaska June 2018!
(Scroll down past the videos for more information on upcoming cruises)!


---
VIDEO: LETTERS FROM HOME UN-CRUISE ADVENTURES 2016
VIDEO: LETTERS FROM HOME 2016 CRUISE
---
To book a cruise with LFH or make and inquiry, contact:
Jan Dearth
Travel With Jan
An Independent Agency in the Avoya Travel Network
800-683-8862 or Jan.Dearth@AvoyaTravel.com
PRINCESS CRUISES: CARIBBEAN: MARCH 2017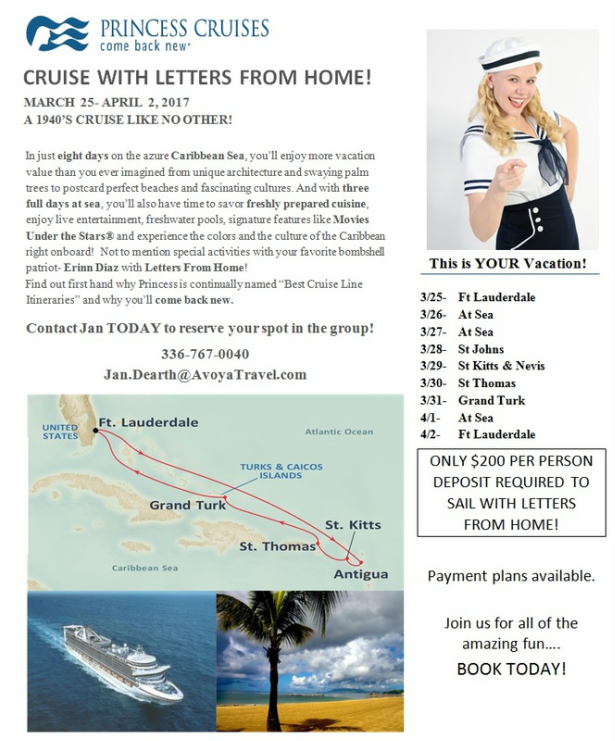 UN-CRUISE ADVENTURES: COLUMBIA & SNAKE RIVERS: SEP 2017
UN-CRUISE ADVENTURES: ALASKA: JUNE 2018
---
To book a cruise with LFH or make and inquiry, contact:
Jan Dearth
Travel With Jan
An Independent Agency in the Avoya Travel Network
800-683-8862 or Jan.Dearth@AvoyaTravel.com