Since I was a very small child, I've always known that all dreams really do come true.
​
As an adult, over and over again, I have seen outside negativity try to creep into the hearts of the innocent, and though it sometimes succeeds, it is up to all of us to outshine the shadows and shine light on the magic that is everywhere in the world. One of the individuals who continues to make the world a happier place even years after his death is Walt Disney, and I give credit for my positive mindset in part to the many family trips I was fortunate enough to take to Walt Disney World.

Last week, in-between rehearsals and shows, Courtney and I had the opportunity to visit the happiest place on earth together, the Magic Kingdom! We also experienced wonderment at Universal Studios and Islands of Adventure on our trip, especially at the Wizarding World of Harry Potter. So many exciting moments happened in just a few days of magic, and you can watch a short video with some of the highlights of our trip here:

Letters From Home had the opportunity last year to perform at the Tivoli Theatre with several of the original Mouseketeers from Disney's Mickey Mouse Club: Bobby, Sherry, Tommy, Sharon and Cubby. They were a lively bunch and it was an amazing experience to get to perform with them!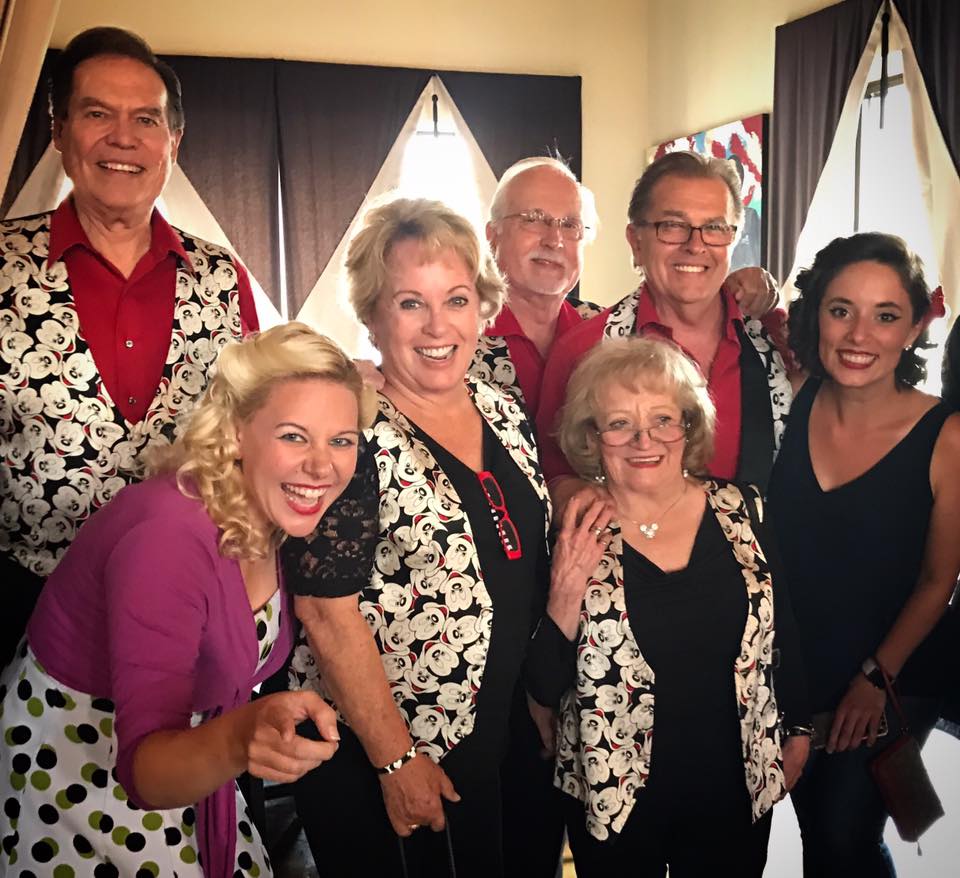 Courtney and I with Disney's original Mousekeeters- Bobby, Sharon, Tommy, Sherri and Cubby at dinner after the show
One of the amazing veterans we met during our travels is Guy Spagnoli, who served in Vietnam. We first met Guy when he came to see the Bombshell Duo / Mouseketeer show at the Tivoli Theatre, and we got to see him again at the Patriot show at the McHenry VFW later that year. Through social media and the internet, we have had the opportunity to stay in touch ever since.
I was personally very excited to find out that Guy has had a lifelong fascination with Disney. Since his time in Vietnam, he has struggled with Post-Traumatic Stress Disorder (PTSD). He finds peace in the fantasy lifestyle of Disney, and with the help of just a little bit of pixie dust, Disney has helped him tremendously, as well as thousands of other individuals with internal struggles. His story was so amazing, that Guy was featured in a documentary with the title of Disney's famous quote "Keep Moving Forward". You can read more about how you can see the film or get involved at
http://www.keepmovingforwarddoc.com
.
Even Walt himself had many internal struggles, but with the mindset of "Keep Moving Forward", he proved to the world that "If you can dream it you can do it". No matter what happens in your life, don't ever stop dreaming, and be sure to keep your heart happy. It truly is your choice. -Erinn xoxoxoxo